Copenhagen Grand Prix; 5-6th August 2017
2017-08-10
We arrived on the Thursday, unloaded and then had the most torrential rain storm all evening.  Friday was scrutineering and paperwork. Later in the afternoon was track orientation and then off to dinner.
Saturday qualifying saw Iain Rowley ahead of anyone else with Robin Longdon in second.  John Sykes came in after hitting the curb and breaking a wheel and Noel Woodford came in with his persistent oil leak.  Petter Huse was out in his Focus Mk IV, first Formula Junior race for him and the first time for the car since 1964.  It is a fascinating Norwegian built FJ and I am sure he can be persuaded to write an article about the car for the magazine.  Lars-Goran Sjoberg qualified with only 1st and 3rd gears but reckoned he could manage with just the two.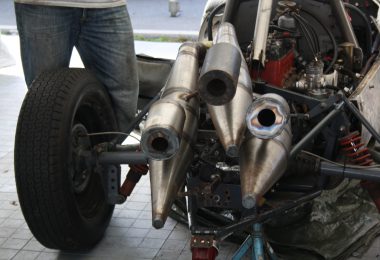 The most amazing car in the paddock was the Saxon DKW of Allan Bach Sorenson, whose DKW engine was fitted with an exhaust system from "steam punk" … see photo.
It made a lot of noise but unfortunately didn't complete many laps.
Heat 1 was based on qualifying times, with Iain taking an early lead from Robin which he never lost. Robin stopped on lap 3 with a fuel pump problem. Noel would have been second and Nick Taylor third except they were given a 20 second penalty for overtaking under a yellow flag. Petter only managed 1 lap before stopping with engine problems. John Sykes was also penalised 3 seconds for a jump start.
Heat 1 results set the grid for the final, so this was not representative of lap times.  Iain was on pole with Nikolaj Enager Mortensen (Brabham BT15) second and David von Schinkel third with Noel fourth, John fifth and Nick sixth.
Robin had to start from the back.
Iain made a fantastic start and disappeared off into lead with Noel and John quickly regaining second and third places. Tony Pearson had a fantastic dice with Jac Nellemann's Volpini driven by Ole Vejlund and the Elva 100 driven by Ingvar Malm, with Tony managing to lead for almost half a lap!!
Robin quickly worked his way through the field, managing to squeeze past Larry Kinch before getting past Nick Taylor and closing to within 0.09 second of John Sykes at the finish for fourth place.
Lasting memories of the weekend are Jac Nellemann's amazing hospitality, Iain Rowley's euphoria on the podium and John Sykes slithering out of his car having been sprayed with Noels oil for most of the race…. and the deafening exhaust of the Saxon DKW.
All in all, a fantastic weekend which I would encourage far more people to attend.
Susan Longdon