BMC inline race engine
Small bore block bored out and fitted with linners, 1275 stroke makes it a short stroke engine.
Block with special steel main caps and pockets for the valves.
1275 Crankshaft balanced with flywheel and pulley.
1275 Pulley
1275 Flywheel lightened
Sump reinforced and with thread for oil temp sensor
Con Rods polished
12G940 head ( Sandblasted and coated )
Backplate engine
Front plate ( Sandblasted and coated )
Front cover ( Sandblasted and coated )
Full Race 649 Camshaft
Alloy valve cover
Rocker assembly
Side covers with breathers
Water pump pulley
Fan blades reinforced
1 extra 950cc block with caps included.
£1200 for the lot.
Contact: Nikolaj Mortensen info (at)sixtyfivers (dot) com
Ford Cosworth 1000cc engine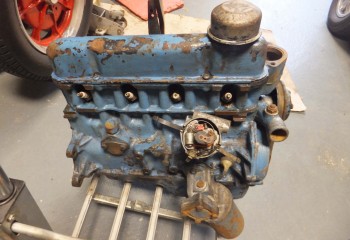 Ford Cosworth engine for sale together with a pair of weber 38DCOE carbs and manifolds, distributor, oil pump, flywheel and exhaust manifold, plus a Holbay alloy rocker cover.
It was originally fitted to the FJ of Martin Gartside in the 1960's. It has not run for 30 years, does still turn over but will obviously need a full rebuild.
It is a side draught, wet sump and has the original Webbers and manifold believed to be 38's though not 40's and was purchased in 1960.
Martin is happy to take the head and sump off for inspection if anyone is interested, unfortunately one of the left hand side engine bell housing mounting lugs has been modified which you can see in the picture but should be easily repaired.
NEW PRICE: £1500 ONO
Contact Martin Gartside: martin.gartside@btinternet.com
Fiat 1100/103 engine
Fiat 1100/103 engine. Price £ 5000,- Info: dan@setfordandcompany.co.uk
BMC Engine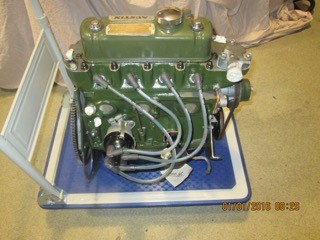 For sale, BMC A series engine 1098cc, refreshed and dyno'd by Swiftune last month, this engine is not a long term storage example!
it has new rings, mains, duplex chain, ignition leads and DCOE 45 carb with inlet manifold and is ready to go.
I'm sure it will give a reliable season, bargain at £7,000.
e-mail Taff in the first instance, at realaero@btinternet.com.