Monopoletta BMW 500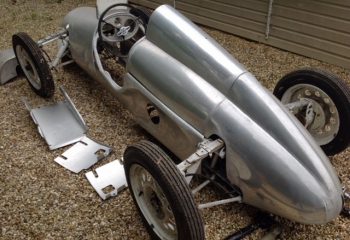 Unique opportunity to acquire an unusual and rare 500.
Built 1950 by Helmut Polensky, (one other car known in Hamburg museum).
500cc BMW 'boxer' engine overhauled and ready to fit.
Part finished alloy bodywork.
Numerous parts and spares.
Interesting project which, when finished will be welcome at all 500 race/hillclimb events.
Best offer over £15000 by end of June will secure.
Any inspection positively encouraged, can be viewed 10 mins from junction 13 on A14.
Also available 4 fully refurbished spoked wheels @ £1500.
Interested? Contact me anytime on pat.barford@btopenworld.com or 07802 217327

"Silverfågeln"Swedish F3 500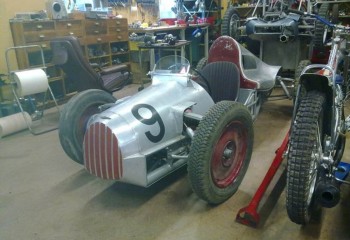 "Silverfågeln" a Swedish F3 500 with documented history is up for sale.
Now has an FIA HTP
A fully rebuilt J.A.P. 5 bolt engine with a "Carlsson Special ignition" (it's a contact breaker system powered by a small 12 V battery built by "Carlsson", a Swedish engineer).
Chassis is restored and suspension is from a Fiat Topolino and in good condition.
The car at, the moment have, no HTP, but with the documentation, period pictures and raced in period in Sweden and internationally, this should probably not be a problem.
I've driven the car only once in a hill-climb in Sweden but had mechanical problems and did not finish (bolt which held the carburetor caused a loss of the carb-now fixed).
I have also driven it for testing purposes, checking brakes and steering, and found all I good order.
Gearbox is from a BSA-military MC
Hidden extra tank added, alloy UK made to make certain it would not suffer from fuel shortage during race
Lots of spares included, extra gearbox and the original front panel (in bad condition)
Two sets of wheels, one set for gravel and one for tarmac
Roll-over bar made according to FIA spec.
Price – Open for serious offers
Contact seller via e-mail svenchristerlarsson@gmail.com
or by phone +46705597671
Wasp F3 500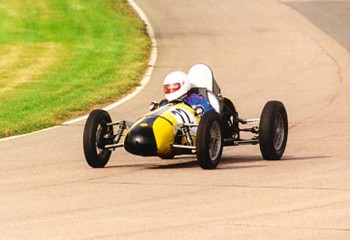 Wasp F3, commonly known as the 500.
Yellow and black.
A wonderful pedigree.
This car is written about being a successful winner, commonly written about in all magazines in the 1950s.
Fitted anti-roll bar.
Car can be seen in Autosport, page 660, 21 May 1955.
Goodwood First Revival meeting – go to Goodwood web page and Cliff Jowsey can be seen driving this car.
Also illustrated in The Telepraph of that year.
FIA papers.
Best offers on £25K
Telephone 01947 895 217, fax 01947 895 761, email app.2@hotmail.co.uk
The 1948 CFS 500cc/1000cc single seater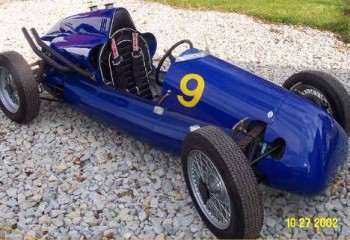 This well documented early car was built by Charlie F Smith with assistance from Don Parker and Jack Knight, as a logical development of Smiths earlier CFS special subsequently raced with great success by Don Parker as the Parker JAP Special.
The Chassis frame is very similar to, and incorporated lessons learnt from the development of the Parker CFS.
Since it was intended from the outset to race it as a dual purpose 500cc/1000cc car on the lines of the contemporary Moss Cooper Mk 3, it was "uprated" and incorporated a De Dion rear suspension with a ZF type differential.
Smith, who was also a successful Sidecar competitor raced the car in the UK and Europe in 1948 and 1949 including an entry at the 1949 Grand Prix des Frontieres at Chimay, one of two "V twin" entrants, the other being Stirling Moss with his Cooper twin. He finished in a creditable 5th place. Later in the 1949 season he was fatally injured during a Sidecar race at Blandford. After his death the car was taken over by Dickie Stoop for the 1950 and 1951 seasons.
In 1980 it was found as a very original rolling chassis missing its body panels and tanks.
It received a sympathetic restoration, the aluminium panels being faithfully reproduced by Rod Jolley.
It currently has a MK 1 8.80 JAP V twin installed, dry sumped with "big fin" alloy barrels, speedway "iron" heads, BTH magnetos and Amal T27 methanol twin float carburettors.
It has a correct period "dolls head" Manx gearbox and clutch and chronometric rev counter.
A 500cc JAP motor is included in the sale to enable the new owner to compete in both forms again.
Its period history as an 1000 should ensure renewal of its FIA documentation and eligibility to compete at prestigious levels as well as a 500cc Formula 3 car.
It has been unused for sometime and will require recommissioning.
See descriptive chapters in:
"Specials" by John Bolster
"500cc racing" by Gregor Grant
"Iota" magazine Aug/Sept 1949
Chimay circuit history by Andre Blaumet
Price £31500 spares available by negotiation.
Please contact Rodney Cummings: cummings_rodney@hotmail.com, 01803782704.
JP Prototype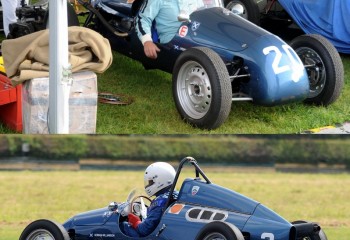 This is the JP prototype car which was first raced in May 1950 and passed to Mirrilees Chassels who allowed Ron Flockhart to use it at Dunrod that year.
The car was been fully restored in 2010 with a 500cc Vincent engine which has just been rebuilt.
The car has extensive history and a 500OA VIF.
Click here for photos.
Contact Vernon Williamson at vmw@byways11.com