2 Wheel Trailer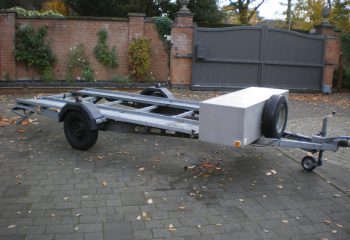 For sale – Very nicely engineered 2 wheel trailer built on Alco chassis.
Beautifully balanced and tows like a dream.
Will carry a car up to 800kg, so perfect for FJ or small sportscar.
Very easy to manouvre by hand , even when loaded.
Bed length 3.58m       width  1.58m     overall length 5.00m
8 ply tyres plus spare, all very good.
Folding ramps , rear stays
Alloy box at front to carry the ramps ,tools etc
Electric winch.
£850
Robin Longdon . 0044 (0) 7974 169136 or robin@woodcoteauto.co.uk
Winnebago ERA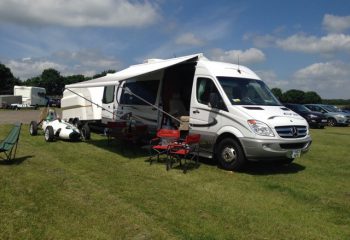 For Sale; Winnebago ERA, Mercedes Sprinter Based Chassis with twin rear axle, 16,000 miles, one owner, no smokers ,children or pets. two berth, shower, toilet, air con, Microwave, gas hob, fridge/freezer, Onan generator, heater, electric bed, LPG built in tank, grey/black/fresh water on board tanks,  all solid rosewood cabinets, MOT and service record, tow package and 13 pin plug. Radio/CD/Hands Free Tel/surround sound.
This is a superb ultra reliable towing vehicle four years old with minimal mileage, perfect for a couple going motorsporting!
£45,000 VAT Free.
Ring Taff Smith 07590 366112.
TRAILER – BRIAN JAMES Sprint Shuttle
Fully enclosed unit with inbuilt shelves for parts and extra storage.
Very good condition, near new tyres with spare wheel, winch and front door for easy access to parts.
Located in Norfolk.
Call Tom on 0758 7777 937.
No further use as I'm no longer towing cars.
GBP 4,950
PH: 0758 7777 937 or Kim on +61 418 335 385 (GMT + 10 hours).
Trailer for Sale
New tyres – 0 km
Price:  1'500,oo euro
Located in Italy
Contact: daniele.salodini@tiscali.it
BICKERTON MONOPOSTO SWB SUPERLEGGERA PORTATILE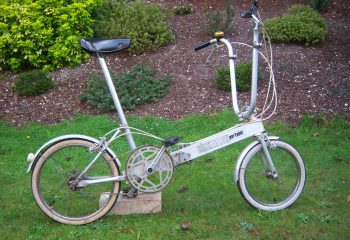 Substantial offers invited to secure
BICKERTON MONOPOSTO SWB SUPERLEGGERA PORTATILE
Frame No. 5551
from a private collection.
A rare opportunity to acquire a sought after velocipede in full working order.
Period correct in every respect. Original patinated condition, never restored.
Extensively campaigned at most UK & European race circuits by the previous and present owner.
Eligible for Pembrey, Monaco, Goodwood Revival, Silverstone Classic & other prestigious events.
Chassis; aluminium box section central beam with aluminium tube section extensions.
Suspension; rigid.
Transmission; forged aluminium crank with central ball race main & overhung big end bearings.
Gearbox; chain driven sequential change 3 speed epicyclic hub by Sturmey Archer.
Power unit; unspecified but will accept a wide range of air cooled bipedal units of choice.
Fuel; alcohol based with protein reagent.
Lubrication system; total loss, external application as required.
Wheels, high tension steel wire spoke, rim width 3/4". 12" dia front, 14" dia rear.
Tyres; muro bianco, compound unspecified, width & profile dependant on load & pressure.
Brakes, aluminium calipers front & rear with rim friendly low friction pads.
Steering; direct acting, approx half a turn lock-to-lock.
Controls; fly-by-wire, plus lever action monotone audible warning of approach.
Wheelbase; 38"
Track width; 1/4" nominal, but variable according to load & tyre pressures.
Weight, less power unit;  23 lbs.
Unique folding & reducing design utilising lever cam locks to allow compaction into a carry-bag. Perfect for cattle trailers, private aircraft, ocean going yachts and continental grand-touring cars.
Please contact … Peter Jackson email; peter.jackson02@btinternet.com
Trailer for Sale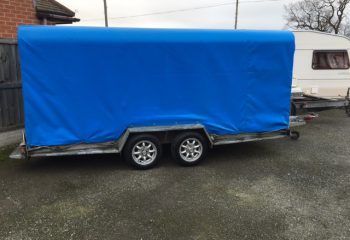 PRG race hauler covered 4 wheel  trailer
twin axle, tilt bed
new cover a couple of years ago so no rips or damage
has 4 x 12″ minator alloy wheels with good tyres all round
tows superb!
brakes serviced and all lights undamaged and working
measures 71″ at the rear by 142″ bed length
ideal for caterham/mini/midget/small single seater etc
several brand name trailers suitable for motorsport usually in stock, please call with your requirements
we are situated 15 mins from deemon tweeks and 35 mins from oulton park
we can also deliver for £1 per mile
a bargain at £2750!
tel Steve  at SWR on 07783935762 in the first instance