Alexis Mk15 and Caldwell D9
Alexis Mk 15
Dismantled and rebuild 2 years ago, and not raced since.
Ex. Karsten Ree and Danish championship winner 1970.
Price € 23.000,-
Caldwell D9
American Merlyn copy from 1969, last raced 2 years ago.
Price € 22.500,-
Stanguellini CS00121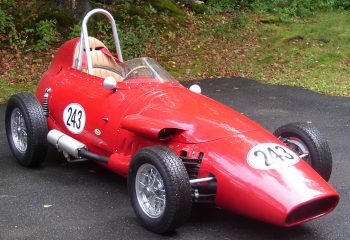 The chassis # is CS00121, an early chassis which was very successfully raced by Roberto Bussinello in 1959
Ready to race when stored, will need race prep
Engine is a correct-displacement Fiat, 1100 cc, which has been professionally rebuilt with upgraded internal parts which tested 107 hp on a dynamometer at assembly· Original-type alloy cylinder head was modified by the engine builder to increase power. Less than two hours on engine. Has a fuel cell, rear brake proportioning system, an Accusump oil accumulator to prevent oil pump cavitation
Includes all the parts which were removed during the rebuild in 1996-99: original fuel tank, single master cylinder, engine block, cylinder head, internal engine components, seats, front and rear suspension components, and rear end gears
Car now features sliding block rear suspension, longer trailing arms in the rear, body cutouts for the external rear damper, and long-nose bodyworkIn present ownership since 2006
A multi-year restoration began in 2006. This car was stripped to its bare frame, and completely rebuilt in the United States by Stanguellini specialists, Vintage Machine WorksSheet metal is 100 % aluminum, as original (no filler)
Front suspension has been upgraded for security and greater strengthSafety upgrades consist of dual master cylinder, fire suppression system, rev limiter, fuel cell, and electronic tachometer for quicker display of engine rpm. The original tachometer is present and working.
Offering at $120,000
For more information, https://vintageracecarsales.com/portfolio-view/stanguellini/
Contact: Kim Baker kbaker (at) vintage race car sales (dot) com
1961 Lotus 20 20-J-960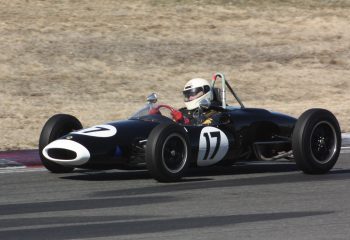 This is the 2nd of 3 Lotus 20's raced by Leo and Pete Geoghegan and kept for 19 months being raced initially as their Junior then as their ANF 1.5 car when the Lotus 22 came on stream as the Junior.
Australian C of D as the Junior representing 1962 with Hewland 5 speed, front discs and 1100cc.
At 12 meetings the Junior did 15 starts for 8 firsts, 2 seconds and a third over 15 races.
At 9 meetings as a 1.5 2 firsts, 5 seconds 2 thirds and 9th outright  AGP 1963 Warwick Farm where Jack Brabham was the winner.
Then to Terry Rogers and others.
Full documented history amounting to over 200 pages.
The car has photos showing a camber link in the rear suspension as the Junior, which Leo told me he preferred as a safety measure.
The car is used regularly in club events and presents very nicely.
£67,500 the car is located in Sydney Australia.
Ed Holly email … edholly@optusnet.com.au  phone (Aus code) 413 270 844
COOPER T52 FJ/4/60
FJ/4/60 is the oldest surviving Cooper T52 in the world.
The original owner was Curt Lincoln of Finland/Sweden.
This car is the fourth car produced out of a total of sixteen which bear chassis numbers.
A further eleven were produced in kit form.
This car first raced on May 15th 1960 at Djurgarden, Helsinki, Finland finishing first, then went to Monaco on May 28th 1960 where it finished fifth.
On July 10th 1960 it finished first in Vastkustloppet, Sweden, then on August 7th 1960 it finished second in Kannonloppet, Sweden.
The car has also raced in Historics in Great Britain and New Zealand.
In April 2008 it was imported into Australia by Mike Gosbell and is the only one of its type here.
Since then it has raced in Victoria and New South Wales.
Gearbox Cooper/Citroen Type ERSA
Drum brakes
BMC engine 1096 + Spare engine
Spare set of wheels and tyres
Certificate of Description from CAMS / FIA compliant for paperwork
Asking $110,000 AUD
Contact Don Edwards; essee@iinet.net.au
Lotus 18 Chassis 9871/32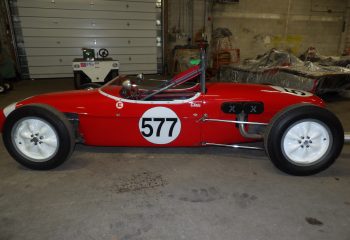 Imported by Jay Chamberlain in California.
Continuous ownership history from 1982
Raced VSCCA and SVRA. Log books included.
Last logbook entry August 2008.
Engine is an Arjay Racing Engines Ford 109E 997 c.c.Billet crank. Billet connecting rods,Forged pistons. Front mounted Dry-sump pump and twin row chain cam drive.  Dual valve springs. Modified stock pushrods, prepped stock rocker arms with Cosworth pedestals. Twin Weber DCOE40. Lucas 2CE electronic ignition. Alloy flywheel. Racing 71/4″ clutch.
Renault 318 gearbox with upgraded sidebell, top cover and rear cove converted to standard shift pattern.  Fuel cell. Fire system. 6 point harness. Aluminum brake drums. Upgraded Linings.
Chassis is all as original except upgraded roll hoop with dual forward facing braces,  removable rear crossmember, and adjustable trailing arms.  Mechanical Smith's tachometer. Smith's oil pressure and water temp gauge and a Smith fuel pressure gauge.
Compliant with all US Formula Junior regulations. Two sets of Wheels. Spare gearbox has broken CWP.
US $75,000.00
Contact: Ms. Kelly Dietrick kelly@classictag.net / Philadelphia, PA
Lotus 18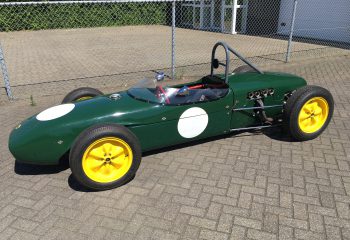 Lotus 18 Formula Junior, chassis no. 788.
This is a nearly finished car and priced accordingly.
Has FIA rollhoop, new stubaxles, brakes, shockers, radiator etc. and plumbing and wiring done.
Available as rolling chassis or with dyno only Richardson rebuild 1100 engine.
It needs new wheels, harness and extinguisher and starting things up.
New gearhub set, Hewland gears and CWP to convert Renault gearbox are included.
All invoices for engine and parts to show as is some early history and 80/90's FIA forms.
Car located near Eindhoven in the Netherlands
Please contact Rob Haze to discuss details; 0031(0)611160831 / r.haze@telfort.nl