Lola T60 Historic F2 car 1965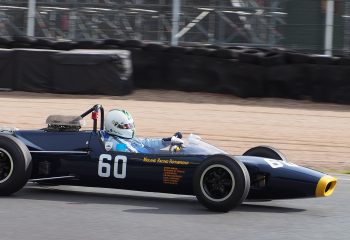 Lola T60 Historic F2 car 1965. Chassis No. SL60/2. This well known car is the second T60 built and comes with fantastic continuous history.
Originally owned and raced in International F2 by the Midland Racing Partnership during 1965/66.
Driven by some of the great names of the day, such as Chris Amon, Richard Attwood, Jo Bonnier, and Tony Maggs.
Meticulous total restoration by ATME. Refreshed Cosworth SCA engine with Hewland MK5 6 speed gearbox.
Goodwood history past and present (1966 and 2018).
FIA HTP to 2027.
Huge history file and spares package.
Compatible to race with FJ, F3, and HGPCA.
A rare piece of early Lola history.
£125,000. Suitable part exchange considered. 
Contact Roger Fowler at rogertype60@gmail.com or Tel. 01386 710134. 
Faranda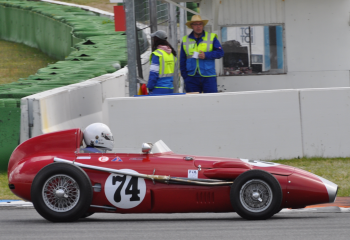 Built in 1959 by Giuseppe Faranda, this advanced Formula Junior was raced in 1960 before being locked away after Faranda's death at Modena Autodrome in October of that year in a De Sanctis.
The car was then stored until 1974 and little used until I purchased it in 2018.
Over the past five years the car has been developed into a very effective race car.
In 2021, the Faranda was fitted with a new Setford Racing Engine, new inlet manifolds and exhaust system with open pipe and silencer configurations. The gearbox was also fully rebuilt at that time with close ratios.
The engine has just had a full rebuild by Setford Racing and has only run once, following rolling road testing, immediately prior to successfully competing at the 2023 80th Goodwood Members Meeting.
Over the winter of 2022 the car was completely rewired and new fuel pump, coil, rev counter, oil pressure gauge, and fire extinguisher fitted. Seat belts are in date and the Borrani wheels have just been fully refurbished at considerable expense.
The car was fitted with new Dunlop Tyres for this years' Goodwood Members Meeting.
There is a large spares package including the original engine, gearbox, exhaust system and inlet manifolds, half engine, spare gearbox, drive shafts and output shafts, and original mechanical rev counter, cable and gearbox.
The Faranda has FIA Papers expiring at the end of December 2026 and won class A in the 2022 Lurani Championship in which it was classified 5th overall. The car is invited to many prestigious events including the Monaco Historic Grand Prix, The Vernasca Silver Flag, Goodwood Revival and Members Meetings and the Solitude Revival and comes with a large history file and invoices since purchase.
Price on application to Damon Milnes at Adam Sykes & Co, M:07802779301 or 07429600332.
1961 Lotus 20/22 Cosworth Formula Junior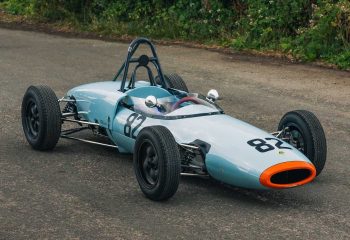 SOLD
A fine Lotus 20/22 with an interesting period race history, chassis 20-J-868.
Raced from new by first owner Len Gibbs of Slade's Garage in Formula Junior in 1961, 1962 and 1963 before being updated to 1,000cc Formula 3 regulations and running in F3 through 1964.
Second owner A.D. Bracegirdle continued racing the 20/22 in Formula 3 until 1967 before it went into Formula Libre racing.
A well known entry in Historic Formula Junior, having been a regular in the popular series with the last two owners.
High spec Richardson 1,100cc engine, Hewland gearbox and disc brakes.
Current FIA HTPs valid until December 2026.
Price: £62,000
Contact: Ben Mitchell at Mitchell Curated on ben@mitchellcurated.com or 0044 (0) 7535 148 470
Kieft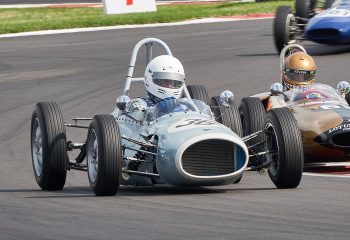 Rob Goodwin's KIEFT FJ 1960 chassis no 1
Class C2 Drum braked- John Fyda/Agra Eng wet sump engine with limited mileage ( Goodwood Revival)
Renault gearbox with Hewland internals
Spare nose section and other items including HTP papers valid until 31/12/2029
This car just needs someone lighter and younger to use its full potential.
E mail Rob Goodwin on ; rob_goodwin@outlook.com
BMC MK1 1960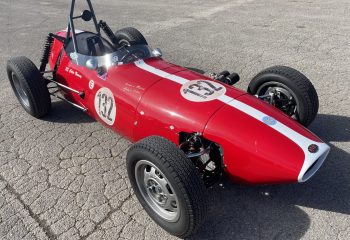 Chassis No 12 (Ex team car)
FIA HTP expires 31/12/2028
Fully rebuilt Swiftune Engine 5 hours 
Rebuilt John Young Dog Box 5 hours
Spares package to include
Long Stroke engine 0 hours
John Young straight cut Gearbox 2 hours
Goodwood Revival entrant 2021
Goodwood Members Meeting entrant 2023
£39,500
Colin Nursey 07876422273  casalunge@gmail.com
Elva 100-DKW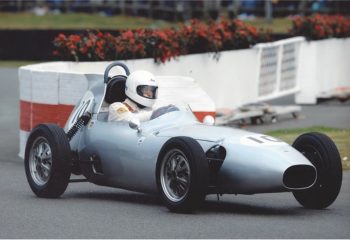 Elva 100 DKW – Year 1960 – Chassis 100/45
Engine Capacity 1089
Purchased in 2003 and fully restored by 2005 by Roger Dexter, chassis and suspension work carried out by David Abbott, engine build by Tim Bishop
Car has been owned by Roger Dexter from 2003 and has competed extensively around the UK from 2005 to 2021 including Goodwood Revival in 2009, 2012
This stunning, rare example of an Elva DKW 100 is well known within the FJHRA circuit 
Spare engine and trailer included in the sale
Price: Offers over £60,000
Contact: Emma Ambrose 07753 636634
Email: eambrose@ntlworld.com for further information