North Star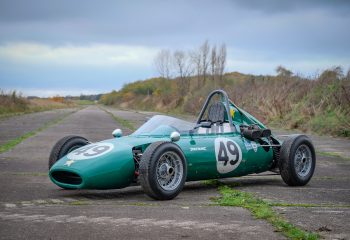 1961 North Star Mk 1 Formula Junior
£44,950
This was the first competition car produced by North Star Engineering of Warwick. The Mk 1 was affectionately known as Fred (Ford Rear Engined Device). It has had only five owners from new and has a long and well documented history. The car was driven by Bill Belcher from 1961 to 1964 and was very successful in club and national events, including at Goodwood. Unusually the car ran on wire wheels, as fitted today.
The North Star has been completely rebuilt in recent years, including a Paul Gardner 1100cc Ford engine with a Richardson head, and a PDS rebuilt Hewland Mk 6 gearbox. Most recently the car has benefitted from new driveshafts, rear springs, exhaust system, roll hoop and front hubs. All safety equipment is in date.
FIA HTP Valid until 31/12/2028
The car is supplied complete with two very large history files including period programmes, photographs, race reports and adverts, invoices and current and previous HTP papers. Also an exhibition board incorporating the car's history and original wood rim steering wheel. There is a useful spares package including spare bodywork and a nose mould, with a full list available on request.
A regular and well-known competitor in Formula Junior events, the North Star has also raced it the Goodwood Revival.
Its rarity, history and unique appearance make it an attractive and interesting prospect for future owners and event organisers alike.
Contact: Adam Sykes; ajs@adamsykes.co.uk
1952 Arnott F3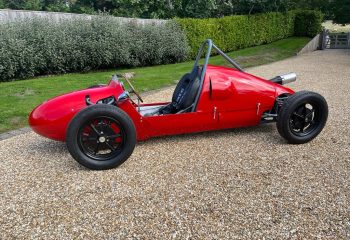 Chassis number AT102
Known ownership 1954 to present
Exported to New Zealand 1962/3
Repatriated to UK by me in 2011
New C&R Norton engine professionally fitted in 2012
VIF (number 73 – Category B1) issued 02/07/2012
Raced in 2013 5th in class overall and 2015 6th in class overall
Stored until :-

Ground up restoration carried out by David Abbott (completed 2020)
Full engine rebuild by Andy Savage 2019
Gearbox overhaul by Jan Nytz 2019
Roll over hoop and new belts (non Hans) fitted

Unused since, apart from test session at Bicester March 2022
Usual pre race checks and new fire extinguisher required, otherwise ready to go
Opportunity to acquire a rare 500 presented in great condition
Viewing on the Isle of Wight positively encouraged (25 min by Red Jet from Southampton)
Best offers to :-pat.barford@btopenworld.com
CARAVELLE MK2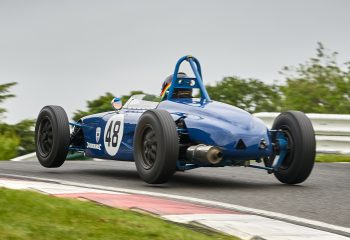 This a D2 class car that is probably the fastest car in the class, One of only 3 built.
Six races in 2022 6 wins and very good overall results in front of many E1 cars
Richardson engine Recent refresh
Renault gearbox low milage since rebuild, spare new CWP.
Aluminium Body
Period history including Monaco.
FIA htp 31/12/2025
New Fire Extinguisher
Hands device seat belts.
Price £60,000
Contact Jim Blockley Mob 07887887748 / home 01453 872957
Nike FJ
1960 Nike Mk1
One of one
New FIA HTP papers – valid until 31.12.2032
Restored by Duncan Rabagliati/Peter Denty/Roach Manufacturing
Purchased by myself as a rolling chassis and further developed into a front running BMC engine car
Goodwood Revival 2021 1:30.5
Latest evolution (2021) Swiftune engine – 2 hours
John Young gearbox and differential/drop box
All new stub axles, aluminum drums and Cooper Bristol wheels (2021) from Ian Nuthall
Original magnesium wheels/corners from Mike Hawthorn Cooper Bristol come with car
£60K
Contact Simon Goodliff +44-7795-396133
Ausper T3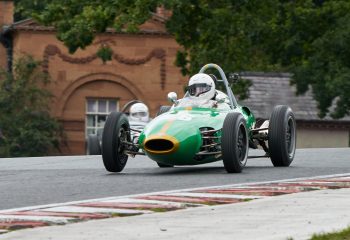 SOLD
1961 Ausper T3 available now.
Fully fresh Richardson engine not been used yet this year.
I love this car and purchased it from Alex Moreton a few years ago but need to move on now so she is looking for a new home.
Full HTP with her, exp date:31/12/2025
Ford engine and Hewland 5 speed gearbox.
She is ready to go with a massive history file that comes with her.
I had a fibreglass nose made for her and still have the aluminium nose which is immaculate.
The Ausper is a pleasure to drive and fits me in at 6'1 tall.
Looking for in excess of £65000 call David Drew on +44 7718 535536 or email dejdrew1@gmail.com
TOJEIRO 1961 FJ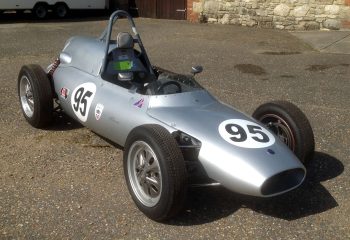 TOJEIRO FJ + MOTORHOME/TRANSPORTER 
The complete, affordable, self-contained outfit to go anywhere.
Only GBP45,000 all up!  
Current FIA HTP – Valid until 31/12/2026
FIA Period F / FJ Class D

Top HP Ford, rear engine, drum brakes, Mk 4 Hewland. 
Aluminium body, Elva wheels (new), Transponder. 
Large, comfortable cockpit for big boys. 
Ex USA. Restored by Peter Denty, maintained by TT Motors Racing.  
6 Goodwood Revival invites. 
Reliable and competitive throughout UK, Europe and USA. 
FIAT DUCATO 2003 VAN 
2003, fresh MOT (new tyres, brakes), UK regn. 
Powerful chipped diesel, 5 speed manual, cruises 70mph plus. 
Double bed, kitchen (3 way fridge, hot water) storage. 
Rear door/ramp, air-bag suspension for easy loading 
Has cruised reliably and comfortably through UK, Europe, USA. 

 Contact Bill Hemming: +61 408 059 002  / bill@elfinheritage.com.au