Membership
If you would like to become a member of FJHRA, whether as a racer, mechanic, or just if you have an interest in FJ, please complete the membership form below, and send it back to us.
MEMBERSHIP INCLUDES:
3 Glossy A5 magazines a year, regular e-Newsflashes, discounts etc.
FJHRA, founded in 1993, is the organising Club for Formula Junior Racing throughout Europe and the registrar of all Formula Junior cars worldwide.
We really value your membership, which pays for the office and club magazine. 
Whether you race, or own a car, or just enjoy being a part of FJHRA, there is a membership type for you.
MEMBERSHIP TYPES;
Racing: To take part in FJHRA races, whether non-Championship, UK, or Lurani Trophy, this is the membership type for you.
Lurani Trophy Registration: This is a supplement for Lurani Trophy participation.
Social: The FJ family is more than just about racing, so if you would like to keep in touch our news, receive our Club magazine, and join us for events, we'd be delighted to have you as a Social member.
In addition if you wish to enter any races organised by the HSCC which form part of our Silverline Championships, you will need to be a member of the HSCC. If you are not a member but want to race in a one off HSCC event, then you can buy 'one event' membership. Be aware though, that they do have to give priority to full members so a "one event" member cannot displace a fully paid up HSCC member if there are reserves on the grid (up to the closing date of entries). "One Event" membership can only be used once in a season so if you wish to race thereafter you must join as a full racing member. Here is their membership page.
New to FJ Racing?
If you've seen FJ racing in action, or have a friend who's racing with us, and you fancy having a go yourself, we would be delighted to hear from you.
We'd also be happy to give you advice on a suitable car to buy, so have a look at our for sale list and get in touch via the Contact page. Every year we have new drivers and cars joining us, so you won't be on your own and you'll soon be one of the FJ family, enjoying the unique paddock camaraderie.
If you have never raced before, once you've bought/got your sights on a suitable car, you will need to apply to for a licence – for UK drivers, its the Motosport UK,  our sport's governing body for a "go racing" pack. Click here to go to their website.
FJHRA Ethos
A unique camaraderie extends throughout Formula Junior paddocks worldwide, welcoming everyone from first time drivers to the period drivers, through to the families and mechanics.
The spirit of Formula Junior has always been to have fun, incident free, but exciting racing in well restored and authentic cars.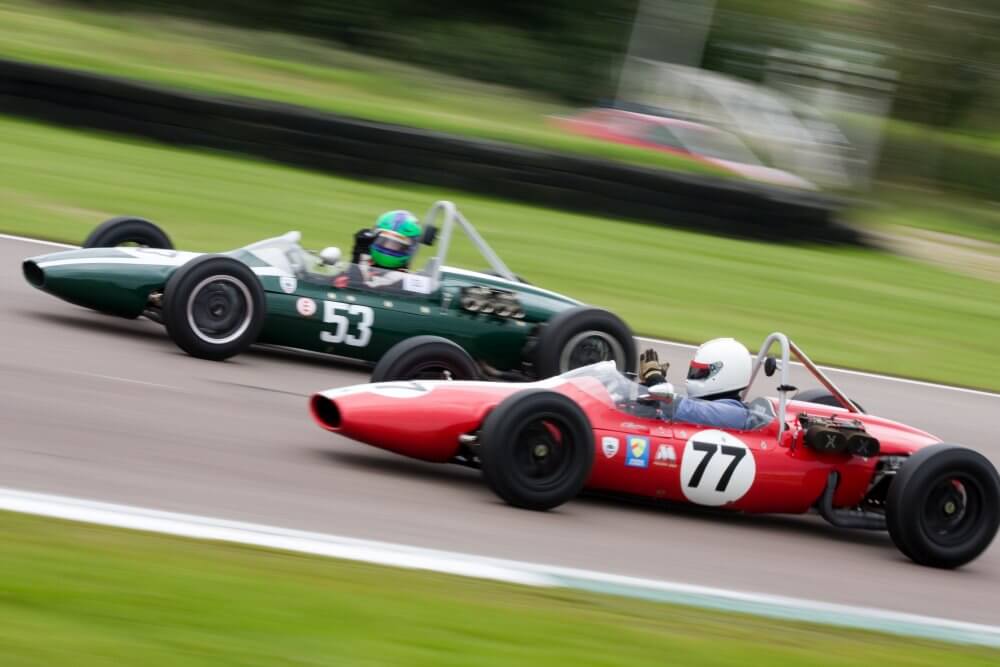 Steve Smith congratulating Sam Wilson on his win at Mallory Park in the John Taylor Memorial Trophy Race
Photo by Richard Sloman