Cooper wheels for Sale
Cooper wheels:

2 T59 13″x 6″ (4.5″pcd)
2, 13″ x 5.75″ (3.75″pcd)

Contact : Crispian Besley  M: + 44 (0) 7860 209241 E:cgbesley (at) aol (dot) com
Engine for Sale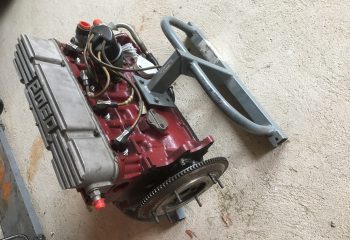 Original Lotus 20 Formula Junior engine
1100cc Ford pre-crossflow.
With original Cosworth Cylinder Head
Currently dry sump.
Would be suitable for a spare "get you out of a muddle" for Class D & E
But ideally as a correct spec Class C if converted to wet sump.
Compression tested and leak down tested. Figures upon application.
£7,000
Contact; chris (at) classicteamlotus (dot) co (dot) uk /  +44 7739 199210
Wanted – Parts to suit Lotus 22
Any help sourcing the following would be much appreciated.
Engine Mounts
Exhaust Manifold & Silencer
Dry Sump Pan
Steel Flywheel
Please contact Chris Chapman on 01283 713914, 07949 290449, email chris.chapman68@tiscali.co.uk
Ford 105e Head – Rebuilt by Stuart Rolt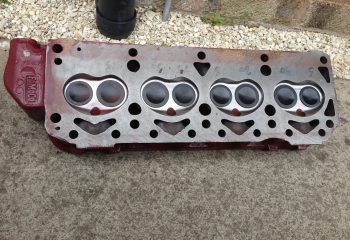 Stuart Rolt Formula Junior Head
Ford 105 e head rebuilt by Stuart Rolt for the ultimate front engine head or very good spare for your rear engine FJ.
Stuart rebuilt the head and it is now surplus to requirements and never used.
Ready to bolt on and use avoid the lead time for Stuart to build you one.
Asking price £2k
Contact Andy Jarvis / E Mail Andy.Jarvis@Magnoxsites.com / Phone 07894 402246
Parts for Sale
Set of Swiftune steel H beam Formula Junior  Cooper S Type race rods and Forged +40 (2.820″) Omega Flat Top Pistons with 13/16″ pin diameter 1.495″ compression height confirmed by Nick Swift to be in perfect working order and only requiring new rings.
Contact Malcolm Wishart on 01416374422 or e mail m.wishart5@btinternet.com
Wanted: inlet manifold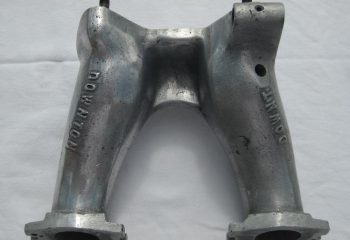 Wanted; a period Downton inlet manifold for A-Series engines, to fit a single Weber DCOE.

Photo is an example of what is wanted
 Please contact; phillipberesford (at) hotmail (dot) com / 07711 588438