LOTUS 20 PARTS
Rear Upright Assy.  (Left or Right, not handed), complete with flange, bearings, U-J, drive shaft and wishbone. £380
Original Top F/G Body Section.  Sound but needs TLC.  £90
Original Combined Water and Oil Radiator.  Believed in sound usable condition.  £150
Period Mechanical Rev Counter Drive. £40
Set of Dunlop CR65 Tyres. 4.50L X 13 fronts and 5.00L X 15 rears.  50% Part worn, still soft, usable.  £80 for the set.
Box Of Bits.  Including:

Original (long travel) pair rear shock absorbers and springs and original front shock absorbers and springs.  Shocks need servicing and spring rates unknown.
Front upright and pair of adaptor plates.
Selection of used brake/clutch M/C's and reservoirs.
Engine mounting brackets.
Steering column.
Fibreglass seat which may or may not fit.
Hewland MK6 ratio 23-29.  As new.
Facet Red Top Fuel Pumps X2.  Used but serviceable.
Offers for the assorted box of bits invited or FREE if you buy all of the above major items.  Photographs available.
Contact: John Boyes (44) 01455 556015 or john.s.boyes@btinternet.com
1100CC FORD FJ HEAD
105E race head, prepared and built by John Exley Engineering for Simon Diffey.  Not used, ready to fit, fully regs compliant.
Dyno sheet and photographs available.
£1,100.
John Boyes (44) 01455 556015 or john.s.boyes@btinternet.com
Cooper wheels for Sale
Cooper wheels:

2 T59 13″x 6″ (4.5″pcd)
2, 13″ x 5.75″ (3.75″pcd)

Contact : Crispian Besley  M: + 44 (0) 7860 209241 E:cgbesley (at) aol (dot) com
Engine for Sale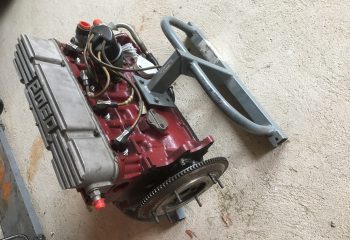 Original Lotus 20 Formula Junior engine
1100cc Ford pre-crossflow.
With original Cosworth Cylinder Head
Currently dry sump.
Would be suitable for a spare "get you out of a muddle" for Class D & E
But ideally as a correct spec Class C if converted to wet sump.
Compression tested and leak down tested. Figures upon application.
£7,000
Contact; chris (at) classicteamlotus (dot) co (dot) uk /  +44 7739 199210
Wanted – Parts to suit Lotus 22
Any help sourcing the following would be much appreciated.
Engine Mounts
Exhaust Manifold & Silencer
Dry Sump Pan
Steel Flywheel
Please contact Chris Chapman on 01283 713914, 07949 290449, email chris.chapman68@tiscali.co.uk
Ford 105e Head – Rebuilt by Stuart Rolt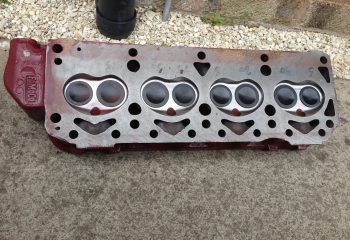 Stuart Rolt Formula Junior Head
Ford 105 e head rebuilt by Stuart Rolt for the ultimate front engine head or very good spare for your rear engine FJ.
Stuart rebuilt the head and it is now surplus to requirements and never used.
Ready to bolt on and use avoid the lead time for Stuart to build you one.
Asking price £2k
Contact Andy Jarvis / E Mail Andy.Jarvis@Magnoxsites.com / Phone 07894 402246